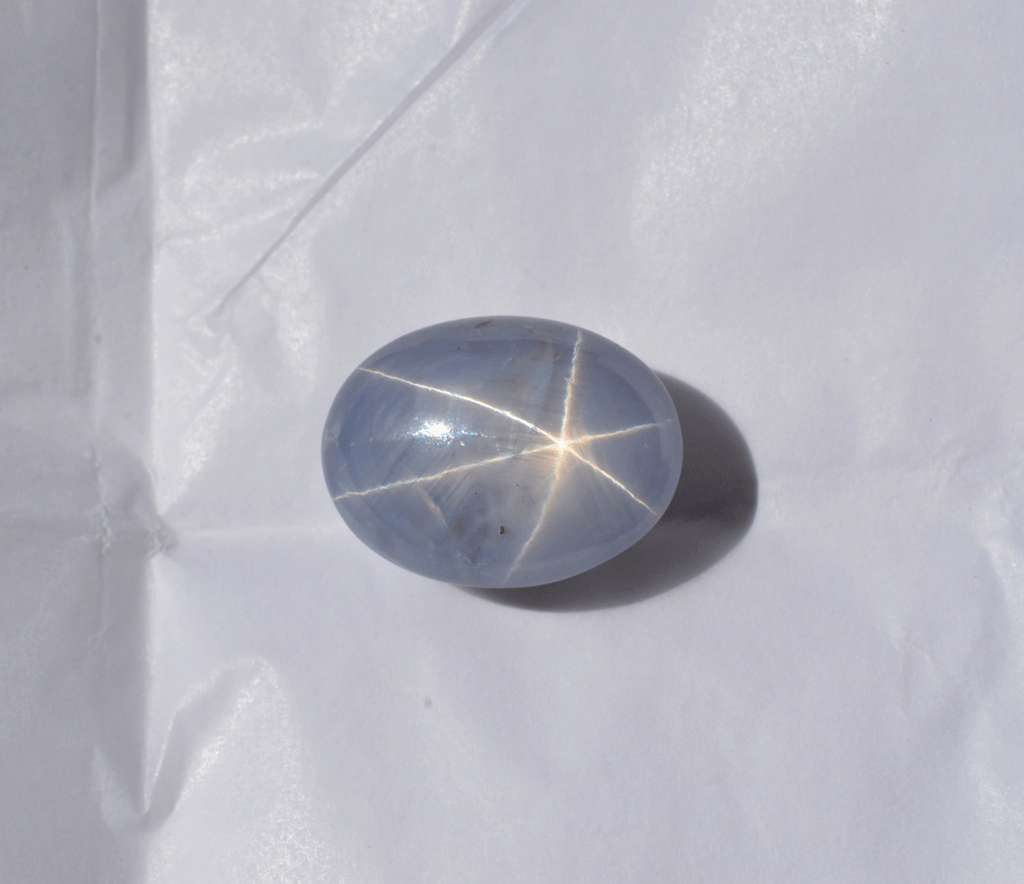 40.85 Carat 6-Ray Blue Star Sapphire from Ceylon
Product Description

Hot out of the mine and just grinded! This breath-taking 40.85 carat star sapphire from Ceylon has a six-ray star with a strong star strength. Star sapphires are a rare breed of gemstones. The three lines that cross in the six-rayed star are believed to represent faith, hope and destiny. Personally for us here in Sri Lanka, star sapphires remind us of the creamy blue ocean surrounding us. These gemstones require an assortment of variables to align at the right moment to reveal its astounding beauty. So if you do get your hands on one, you'll be sure to make a statement of natural beauty as a result of perfect imperfections.

Link to a good reads:
Blog page 1: The Star of Adam: World's Largest Blue Star Sapphire
Blog page 2: Star Sapphires: Nature's Perfect Imperfection
All photos of this star sapphire except the last is taken in direct or indirect sunlight. Last picture is taken in the night with the light source pointed directly at the star sapphire. In both day and night, the rays of this sapphire appears only in direct lighting. Photos and video shown here are of the actual item for sale. No enhancements or touch-ups are done to photos or video. 
Sapphire Gemstone Details
Stock Number
KDJC4085

Origin

Ceylon (Sri Lanka)

Carat Weight

40.85 Carats

Dimensions

20.5mm (L) x 15.5mm (W) x 12.5mm (H)
Pieces

1

Color                         

Grayish Blue

Cut
Cabochon
No. of Rays
6
Mineral Class
Natural Corundum
Transparency
Opaque
Enhancement
None
Gem Certificate
Will be displayed soon
 
When it comes to buying a precious gemstone, we understand that trust plays a great role. That is why we think it is important that you understand who we are and where we come from. In our 'About Us' page we have made an attempt to do just that.
If you have any questions about the above product please write to us at elizabethjewellers@gmail.com with the stock number.